Queer STEMM Champions science communication competition - February 2020 Insights
Our first event of 2020 took place on February 23rd to tie in with LGBTQ+ History Month in the UK. The event celebrated our three Queer STEMM Champions science communication competition winners. Students from Exeter-based schools, colleges and universities were invited to nominate an LGBTQ+ person from Science, Technology, Engineering, Mathematics and Medicine who they wished to champion and were encouraged to look beyond Alan Turing. The students responsible for the three winning entries each presented a short talk on the person they had championed.
Dr Izzy Jayasinghe (University of Sheffield) was our esteemed guest for the evening. She provided a welcome address which outlined how LGBTQ+ rights had evolved during the 20th and 21st centuries in the UK.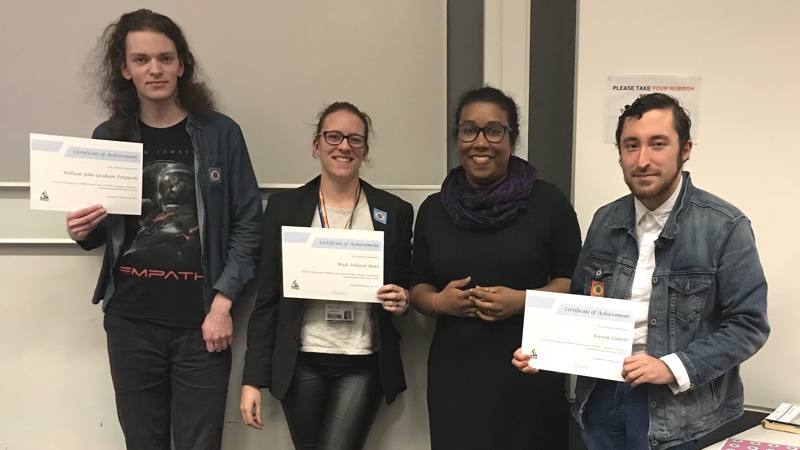 The competition winners were presented with certificates of their achievement by LGBTQ+ STEMM professionals and esteemed guests Dr Izzy Jayasinghe, Dr Sally Basker (CEO, Exeter Science Park), and Dr Andrew Griffiths (University of Exeter).
Undergraduate student Kieron Lintott championed astronaut Dr Sally Ride who, despite cohabiting with her female partner for many, remained in the closet until after her death. Her sexuality was revealed in her memoirs which were published posthumously, with her consent.
Postgraduate student Madi Pollard-Shore championed botanist Elke MacKenzie. Elke discovered Verrucaria Serpuloides, the only known truly marine lichen and, in 1971, was diagnosed with Gender Dysphoria.
Postgraduate student William Ferguson championed Nikola Tesla and discussed his letters and memoirs in the context of asexuality. William pointed out that, while we may never be sure how Tesla himself identified (our modern vocabulary on LGBTQ+ identities did not exist during Tesla's lifetime), it is possible to draw comparisons between Tesla's writings and the experiences of modern day asexual/ace people.
A more complete write-up of the event is provided in this article from the Exeter Observer.
28 people attended the event, excluding speakers and guests. Numbers were almost certainly hampered by the UCU strikes affecting University of Exeter staff and students, which coincided with the date of the event. Six attendees filled out our feedback forms. For five out of the six respondents, this event was the first PRISM Exeter event they had attended. The following were among the list of things that attendees reported having learned at the event:
"that you can be diagnosed by a doctor with gender dysphoria"
"that we (asexuals) exist in STEMM"
"really interesting to learn more about the biographies of Ride and Tesla and to discover MacKenzie"
We are grateful to the BioChemical Society for financial support - all our events and activities in 2020 were organised using Diversity in Science grant funds awarded to our "Taking pride in STEMM" project. We are also grateful to the University of Exeter, Exeter College, ExIST, and Exeter Maths School who helped us to promote the competition.